Four Wheel Electric Mobility Scooter With Removable Battery Rental
✔️ Delivered fully built to your door.
✔️ All repairs + maintenance included.
✔️ Our engineers come to you.
✔️ Loss or theft insurance included.
✔️ Legal to use on pavements or in public places without a license.
✔️ Upgraded version with a removeable battery for charging.
✔️ Easy to use with one large lever to go forward and one to go backward and brake when released.
✔️ 12 degrees climbing with anti-tip safety wheels.
✔️ Carry basket & front LED headlight.
✔️ Padded seat can swivel.
✔️ Adjustable seat height and handlebar stem.
✔️ Front bumper.
✔️ 24V 12AH battery with range of around 10-15KM per charge.
You can qualify to rent mobility products VAT-free if you are chronically sick or disabled. If you qualify for VAT exemption you must self declare this above.
Rental Price: From £11.00 / week
Delivery: £39.99
Refundable Deposit: £50
THE X1 ELECTRIC MOBILITY SCOOTER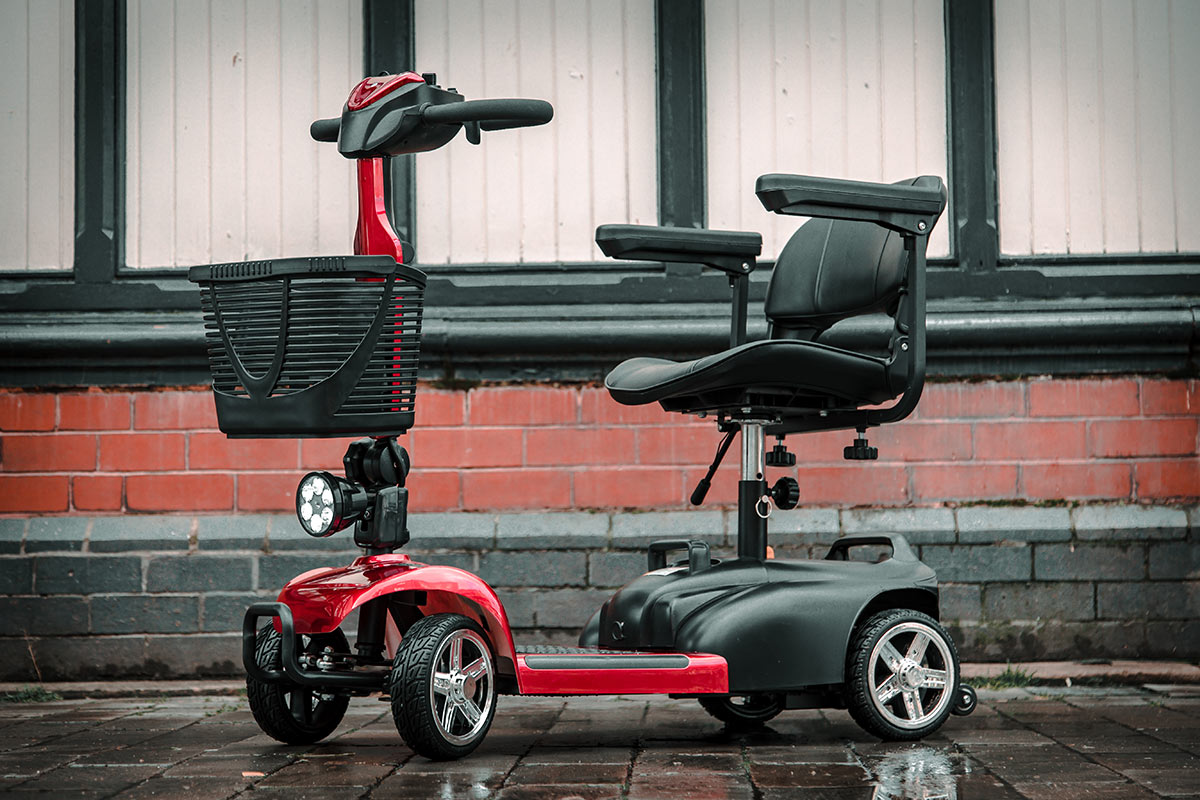 SPECIFICATIONS
Dimensions: 108x49x94cm
Box size: 116x52x56cm
Color: Red
Battery: 24V 12AH lead-acid removable
Speed: 0-8km/h
Max. load capacity: 120kg
Ground Clearance: 85mm
Tyres: Φ 198*65mm
GW/NW: 50/42 kg
Battery weight: 8.6kg
Seat weight: 7.3kg
Weight of the scooter without battery and seat: 26.1kg
Motor: 24v 250w
Controller: 24V 50A
Charger: DC24V2A
Max. climb Ability: 12°
Brakes: Electromagnetic brake system
Running distance: 10-15km
FEATURES
Legal to use on pavements.
Easy to use. One lever to go forward and one lever to go backward.
Electromagnetic brake, when you release the lever, the scooter will automatically brake for safety.
12° maximum driving slope is suitable for most terrain.
Large LED headlamp and reflector for safer driving in the dark.
Storage basket included.
Anti-roll rear safety wheels.
Freewheel mode so can be pushed easily if wanted.
Padded comfy seat that swivels for easy mounting and dismounting and is adjustable to find your perfect seating position.
Adjustable steering column to get the most comfortable driving position.
Folding handlebar and removable seat for easy transport.
Battery level indicator.
Rear wheel spring damping for added comfort.
Large front bumper.
Removeable battery for easier charging.